Biography
Dave Nelson began his career as a professional musician at age 19 in Seattle.
He played at the Moore Theatre there and also on the Kathryn Wise Televison Show. He opened for such notables as famous banjo player Eddie Peabody. He also opened for the Jack Ross show. (Cinderfella) Dave also played at the Trianon Ball Room in Northern Bellingham.
He has played many different styles of music, such as Dixieland, Classical, Stage Bands, R&B, pit band (Camelot in Heidelberg Germany). He played with marching bands at Heidelberg Castle.
Dave's played alongside concert bands and progressive jazz bands. He has had his own jazz quartet since 1996.
He also toured Europe with the 33rd Army Band.
In Canada he has opened for John Stetch, Bobby Hutcherson and also for the Temptations at TCU place.
He has recorded 4 albums (one "Live At Ness Creek.") and played on Oral Fuentes current cd.
His last 2 cd's were recorded in New York with some of New York's finest musicians, Including Joel Frahm and internationally acclaimed Javon Jackson, who plays on his latest cd (recorded Nov. 7th 2010).
His current cd entitled: "Missing" - brings with it the strong emotion he feels for families who have children whose whereabouts is unknown.
The title song, "Missing" is the profound expression of that emotion. Just before recording it, Dave told the musicians involved that it was a very emotional song because it was dedicated to families with children gone missing. As you will hear, The musicians caught the spirit of the tune and expressed that heartfelt emotion, carrying it throughout the rest of the songs which were written by Dave.
---
*NEW!

- Dave Nelson - MISSING //

LISTEN LIVE


FEATURED On PURE JAZZ RADIO


---
Let a Musician Tune Your Piano!
Dave Nelson has been tuning, regulating and repairing pianos since 1980.
You can call him and book an appointment in Saskatoon and Area at:

306-652-1441
---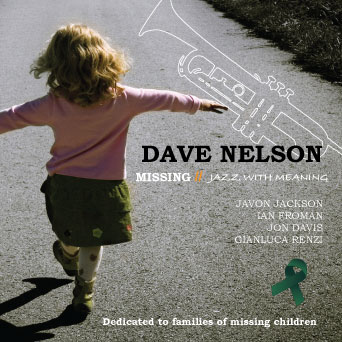 Dave Nelson - MISSING // Jazz With Meaning!
Dave's newest cd, just finished in New York with some of the city's finest jazz musicians! Proceeds from every sale help support finding missing children through Child Find Saskatchewan.